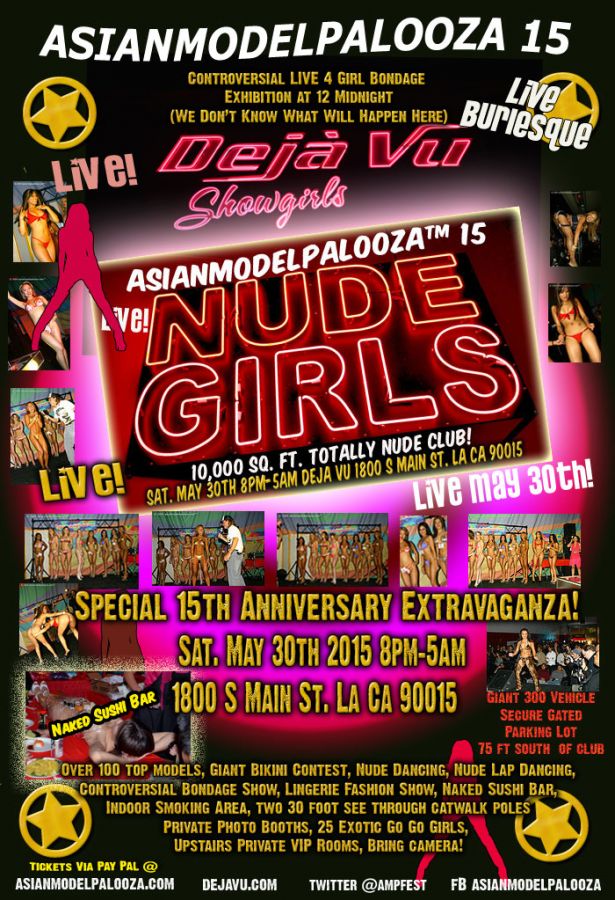 ASIANMODELPALOOZA 15 LIVE!
Special 15th Anniversary Extravaganza!
8:00 Pm –5:00 Am Saturday May 30th 2015 @
Deja Vu On Main 1800 Main St. Downtown Los Angeles!
Bring Camera! (Film &Digital Ok ,No Video Camera's Allowed)
See Line Up Now! http://asianmodelpalooza.com/


"Every year,over 100 Top Asian models strut their stuff at the annual Asianmodelpalooza! Asianmodelpalooza! 2015 takes place at The All New Multi-Million Dollar Totally Nude Deja Vu On Main in Los Angeles ! (1 mile from Staples center).
With some of the hottest Asian models on the page,screen,and internet,Asianmodelpalooza! is sure to satisfy!
Tickets to Asianmodelpalooza! in 2015 cost about $41 each. Reserved 1st and 2nd row seats at Asianmodelpalooza! range from about $99 to around $129."
Yes,This Legendary Event Returns to the City of Angels Saturday May 30th 2015
What:Asianmodelpalooza 15
When: Saturday May 30th 2015 8pm-5am
Where:Deja Vu On Main 1800 S. Main St. Downtown Los Angeles,Ca 90015
Parking:Only $5.00 for White Glove Valet Service or Self Park in our giant secure lighted parking lot 1 block S. of Club
(Club is Located 1 mile from Staples Center in Historic Downtown Los Angeles)
Get tickets Now!

Follow us On FB &Twitter 500+ Free Pics &Video's!
http://www.facebook.com/Asianmodelpalooza
http://www.twitter.com/AmpFest
More Info here
http://asianmodelpalooza.com/